2019 - Meet Junior Player Alicia Bezzina Maltseva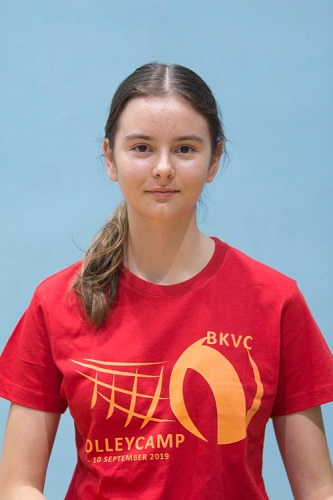 Alicia was born in Mosta in December 2004 to Franklin and Irina and has one younger brother and one older sister.
---
Alicia sat with BKVC for a chat and what it had to say.
Tell us something about your family, any siblings?
I have a family of five, and I am the middle child. We are a close family, but I am closer to my father and my younger brother.
When did you start playing volleyball and with which team?
I started playing volleyball in summer of 2018. Together with my friend. I contacted BKVC and started training with them, which still am till today.
Name 2-3 beautiful experiences that you had in volleyball.
I have a lot of pleasant experiences. Last season match when we won together as a team, out training camps organised by out coaches and doing nothing else just volleyball. The last one is quite funny, I managed to make a point after saving a ball with my nose, I guess it is true that the rally is not over until the ball touch the floor.
Name an unpleasant experience that you encountered in volleyball?
An unpleasant experience is that during a game I was set to start serving. I failed the service and therefore putting pressure on my team-mates. I feel that that day I started the game on the wrong foot for my team.
Name one thing that you like about yourself.
I'm glad that I acknowledge the importance of education and wish to do something with my life.
Name one thing that you don't like about yourself.
Sometimes I procrastinate and leave things for the last minute too often.
If you describe had to describe yourself in one word, what will it be?
Bibliophile
You are playing / training with Birkirkara Volleyball club, why did you choose BKVC?
I signed up because it is close to home and my friend wanted to stay at BKVC. I also like it because I like the training sessions which the coaches prepare for us and I get to know wonderful people.
What are your expectations for this season (2019-2020)?
I hope to improve my volleyball skills together with everyone else.
Would you like to pass an appeal to our BKVC followers and supporters?
No
Would like to pass a message to the young generation (other teenagers like yourself)?
If you feel like you don't have a talent for volleyball, it could be something mental and not physical that stopping you. Know that you can achieve things with the right mindset, determination and focus.
Thank you, Alicia, for your interview and good luck for your training nad games.
Posted in Local on Dec 04, 2019