Italy's Boys' U19 Worlds gold showcases new volleyball generation

Tunis, Tunisia, August 30, 2019 - Italy's triumph in the final over Russia was the highlight of a fortnight that celebrated the world's new generation of volleyball players during the 2019 FIVB Boys' U19 World Championship that wrapped up Friday night here in the Tunisian capital.
The tournament's Dream Team, headed by Italy's Tommaso Rinaldi, is full of names to watch out for as this group of very talented young players develops over the coming years to form the sport's next galaxy of stars.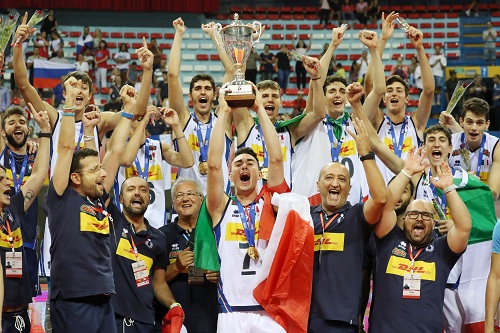 Italy captain Piervito Disabato hold aloft the trophy at the 2019 FIVB Boys' U19 World Championship in Tunis after the 'Azzurri' beat Russia in the final
Incredible Italy proved just too powerful for Russia in the thrilling final for a 3-1 (26-24, 21-25, 25-19, 25-18) in a game between the two most physical teams in the tournament.
It had been 22 years since Italy last made the top of the podium at a youth World Championship.
Final Rankings:
Italy
Russia
Argentina
Egypt
Iran
Japan
Bulgaria
Belarus
Brazil
Czech Republic
Korea
Cuba
Germany
Nigeria
USA
Chinese Taipei
Tunisia
Mexico
Dominican Republic
Colombia
SOURCE: www.fivb.org
Posted in International on Aug 31, 2019