Pool play ends on high note at #EuroVolleyW, shapes up exciting 8th Finals

Luxembourg, August 29, 2019. The pool phase of the CEV EuroVolley 2019 Women ended on Thursday with a number of 'big matches' – with titleholders Serbia edging Turkey 3-1 before 10,700 raucous fans to claim first place in Pool A, while Italy lost 2-3 to Poland in Lodz but could still keep first place in their group. The Netherlands completed a clean sweep of their matches in Pool C without dropping a single set in Budapest, while Germany had already secured first place in Pool D with five wins from as many matches in Bratislava. After two rest days, the competition will resume on Sunday, August 31 with the 8th Finals matches held across the four host cities – Ankara, Lodz, Budapest and Bratislava.
These are the exciting fixtures coming up in just a couple of days: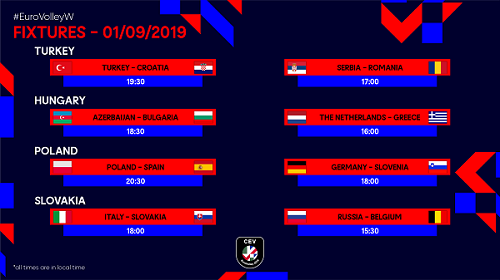 Make sure you follow the competition through the official event website https://eurovolley.cev.eu and the CEV's social media channels, with live streaming (geo-blocking applies depending on the TV agreements in place) and exclusive video content available on EuroVolleyTV and the CEV's YouTube channel, respectively.
Pool A
Bulgaria surged back from a very disappointing start to the tournament, as they routed Finland 3-0 in their last match in the pool not only to qualify for the 8th Finals but also to secure third place in the group, thus leapfrogging Greece.

Nasya Dimitrova was the top scorer of the match with 11 points. Finland leave the competition after finishing fifth in the pool, but still happy with their first EuroVolley victory since 1977.

The 'big match' between reigning European champions Serbia and hosts Turkey gathered a huge crowd of 10,700 fans at Ankara Sports Hall.

Serbia responded to Turkey's strong start to secure a 3-1 victory and finish the pool phase in first place with a perfect record of five wins from as many matches.

Serbia play Romania in the next round, while Turkey take on Croatia.

---
Pool B
In a match that was not going to change their destiny since they had no chance of progressing any further, Ukraine beat Portugal 3-0 to secure their first victory in the tournament and finish fifth in the pool.

Hosts Poland celebrated a 3-2 triumph over Italy to finish second in the pool, thus leapfrogging Belgium, to whom they had lost earlier in the competition.

Since two co-hosts would play against each other, Poland and Slovakia, the pairings have changed, so Poland will host Spain in Lodz for the 8th Finals, while pool winners Italy travel to Bratislava to play Slovakia in the next round.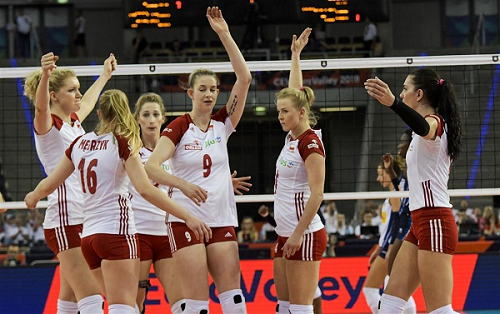 ---
Pool C
Azerbaijan finished second in the pool after a dominant performance produced a 3-0 victory over Romania.

The result left the door open for hosts Hungary, who needed a 3-0 or 3-1 victory over the Netherlands to make it to the next round, but the home team lost 0-3 to the 'Oranjes', who finished the pool phase on a record of five wins without dropping a single set.

Azerbaijan will play Bulgaria in the 8th Finals, while the Netherlands take on Greece.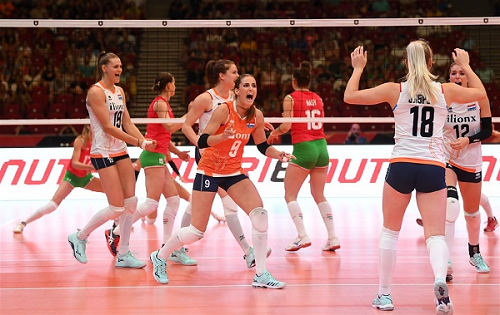 ---
Pool D
Russia were back in full power despite their loss to Germany earlier in the tournament to stun hosts Slovakia 3-0 and finish second in their pool.

The match set another all-time record of attendance for women's Volleyball in Slovakia, with 5,730 fans in attendance.

Switzerland crowned their first EuroVolley appearance – without hosting the competition as they did in 2013 – with a victory over Belarus to finish their journey on a high note.

Germany had already secured first place in the pool with five wins from as many matches and they will play Slovenia in the next round in Lodz. Russia, on the other hand, will stay in Bratislava and take on Belgium for a spot in the quarterfinals.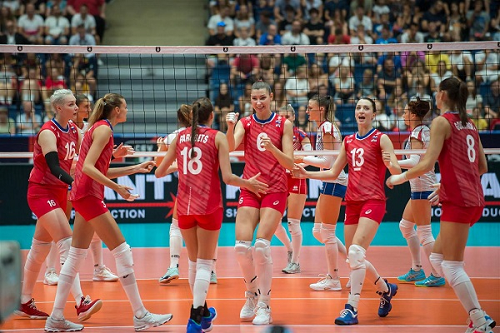 SOURCE: www.cev.eu
Posted in International on Aug 30, 2019