Russia, Italy set up all-European Boys' U19 Worlds final

Tunis, Tunisia, August 29, 2019 - Russia and Italy set up an all-European final at the 2019 FIVB Boys' U19 World Championship, following convincing wins in their semifinals of Thursday over Argentina and Egypt respetively. Argentina and Egypt will play for bronze on the closing day, Friday.
It will be the first time since 2011, when Serbia beat Spain in Bahia Blanca, that the Boys' U19 final involves two European sides. This has only happened one more time since the introduction of the competition in 1989 and was in 1987 in Tehran when Italy beat Greece for gold.
Friday's medals & classification matches:
• Final: Russia v Italy
• Bronze medal match: Argentina v Egypt
• 5th place: Iran v Japan
• 7th place: Bulgaria v Belarus
• 9th place: Brazil v Czech Republic
• 11th place: Cuba v Korea
• 13th place: Germany v Nigeria
• 15th place: USA v Chinese Taipei

Brazil will play the Czech Republic for 9th place on Friday, after the South Americans shut out Cuba 3-0 (26-24, 25-19, 25-20) with Darlan Ferreira of Brazil and Alexei Ramirez of Cuba scoring 15 points each. The Czechs narrowly edged Korea 3-2 (31-29, 22-25, 25-18, 19-25, 16-14) on the second-best scoring of the tournament by Jiri Mikulenka who bagged 37. The Czech Republic had a team tournament high of 18 blocks in the game.
Cuba and Korea will need to settle their differences on Friday for 9th place.
Germany meet Nigeria for 11th place on Friday. The European side outplayed USA 3-1 (25-19, 19-25, 25-19, 25-14) with 'usual supsect' Simon Torwie scoring 18 points - one more than USA's Alexander Knight. The Africans swept Chinese Taipei 3-0 (25-22, 25-21, 25-21) on the back of 15 points by Johnpaul Ternamdoo Anshungu.
USA and Chinese Taipei are consigned to play out for 13th place on the closing day of competition.
Tunisia grab 17th place
Mexico came back from two sets down to beat Tunisia 3-2 (21-25, 20-25, 25-14, 25-23, 15-10) in the round robin pool for positions 17-20, but the hosts had alredy securd 17th place in the final rankings after taking the first set. Franky Milantony top scored for Mexico with 17 points.
In the same pool the Dominican Republic scored their second win in the tournament, downing Colombia 3-1 (25-13, 25-20, 11-25, 29-27) with Juan Feliz bringing in 17 points to secure 19th place in the final rankings.
Final Rankings:

Tunisia

Mexico

Dominican Republic

Colombia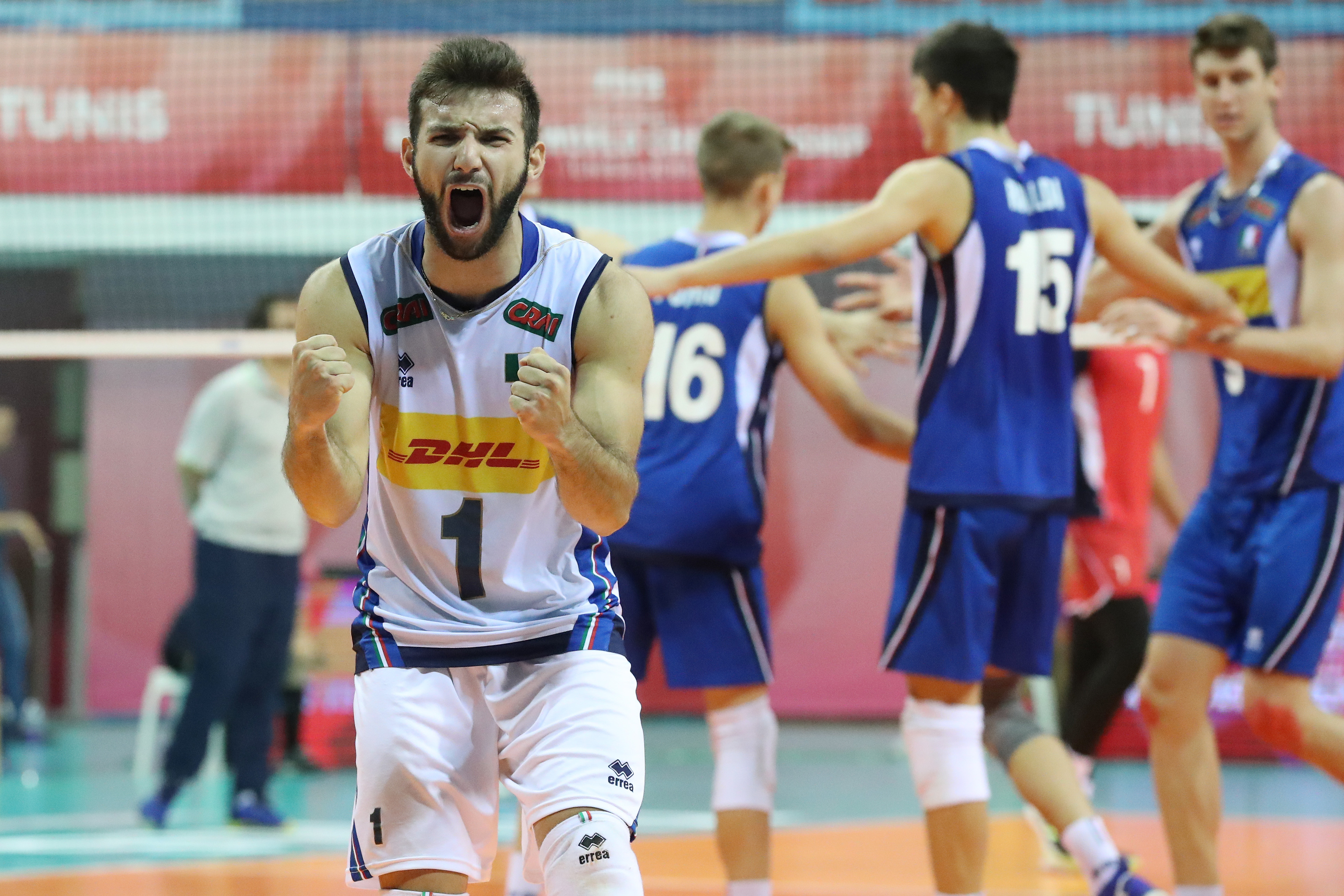 Italy's libero Damiano Catania celebrates as his team beats Egypt
Summary Statistics - 2019 FIVB Boys' U19 World Championship
Highest Scorer by Day
23 – Simon Torwie of Germany v Egypt (2-3) on August 21
33 – Joung Hanyong of Korea v USA (3-1) on August 22
29 – Abdelrahman Elhossiny Jr of Egypt v Japan (3-2) on August 23
22 – Bardia Saadat of Iran v Colombia (3-1) on August 24
25 – Simon Torwie of Germany v Mexico (3-2) on August 25
25 – Uladzislau Babkevich of Belarus v Cuba (3-1) on August 25
25 – Manuel Armoa of Argentina v Japan (3-1) on August 25
29 – Daiki Yamada of Japan v Korea (3-1) on August 27
31 – Jiri Mikulenka of the Czech Republic v Nigeria (3-2) on August 28
39 – Daiki Yamada of Japan v Belarus (3-1) on August 29

Top Scoring Performances
39 – Daiki Yamada of Japan v Belarus (3-1) on August 29
37 – Jiri Mikulenka of teh Czech Republic (3-2) on August 29
34 – Maksim Bahatka of Belarus v Japan (1-3) on August 29
33 – Joung Hanyong of Korea v USA (3-1) on August 22
31 – Darlan Ferreira of Brazil v Cuba (2-3) on August 22
31 – Jiri Mikulenka of the Czech Republic v Nigeria (3-2) on August 28
29 – Abdelrahman Elhossiny Jr of Egypt v Japan (3-2) on August 23
29 – Daiki Yamada of Japan v Korea (3-1) on August 27
27 – Amir Hossein Toukhteh of Iran v Bulgaria (3-1) on August 22
27 – Daiki Yamada of Japan v Egypt (2-3) on August 23
26 – Joung Hanyong of Korea v Russia (1-3) on August 23
25 – Simon Torwie of Germany v Mexico (3-2) on August 25
25 – Uladzislau Babkevich of Belarus v Cuba (3-1) on August 25
25 – Manuel Armoa of Argentina v Japan (3-1) on August 25
25 – Roman Murashko of Russia v Iran (3-1) on August 28

Top Individual Blocking Performances
8 – Aponza Leiner of Colombia v Iran (1-3) on 24 August
7 – Iurii Brazhniuk of Russia v Iran (3-1) on 28 August
6 – Dzmitry Dyleuski of Belarus v Chinese Taipei (3-2) on August 21
6 – Nicola Cianciotta of Italy v Bulgaria (3-2) on August 21
6 – Alessandro Gianotti of Italy v Czech Republic (3-0) on August 22
6 – Gustavo Andre of Brazil v Cuba (2-3) on August 22
6 – Omar 'Sherif' Deigham of Egypt v Japan (3-2) on August 23
6 – Jan Kolakowski of Germany v Argentina (3-1) on August 23
6 – Nicola Cianciotta of Italy v Iran (3-1) on August 25
6 – Paolo Porro of Italy v Iran (3-1) on August 25
6 – Reynier Menendez of Cuba v Germany (3-0) on August 28

Top Individual Serving Performances
8 – Lucas Lima of Brazil v Chinese Taipei (3-0) on August 25
7 – Elyes Bouachir of Tunisia v Belarus (3-2) on August 22
7 – Roman Murashko of Russia v USA (3-0) on August 25
7 – Aymen Bougerra of Tunisia v Dominican Republic (3-0) on August 27
6 – Aliaksandr Piatrevich of Belarus v Chinese Taipei (3-2) on August 21
6 – Alessandro Michieletto of Italy v Bulgaria (3-2) on August 21
6 – Jiri Mikulenka of the Czech Republic v Korea (3-20 on August 29

Top Team Blocking Performances
18 – Czech Republic v Korea (3-1) on August 29
17 – Bulgaria v Colombia (3-1) on August 25
17 – Italy v Bulgaria (3-2) on August 21
16 – Cuba v Brazil (3-2) on August 22
16 – Italy v Iran (3-1) on August 25
16 – Argentina v Bulgaria (3-2) on August 28
15 – Belarus v Chinese Taipei (3-2) on August 21
15 – Italy v Czech Republic (3-0) on August 22
15 – Brazil v Cuba (2-3) on August 22
15 – Bulgaria v Argentina (2-3) on August 28

Top Team Serving Performances
15 – Tunisia v Belarus (3-2) on August 22
14 – Russia v Dominican Republic (3-0) on August 22
13 – Russia v Korea (3-1) on August 23
13 – Russia v Nigeria (3-0) on August 24
12 – Brazil v Chinese Taipei (3-0) on August 25
12 – Russia v Germany (3-0) on August 27

Highest Scoring Sets
33-31 – Japan v Belarus (4th set) on August 29
31-29 – United States v Dominican Republic (2nd Set) on August 21
31-29 – Czech Republic v Korea (1st set) on August 29
30-28 – Nigeria v Dominican Republic (2nd set) on August 25
29-27 – Egypt v Nigeria (3rd set) on August 27
29-27 – Dominican Republic v Colombia (4th set) on August 29
28-26 – Nigeria v Korea (2nd set) on August 21
28-26 – Belarus v Tunisia (4th set) on August 22
28-26 – Chinese Taipei v Tunisia (2nd set) on August 24

Highest Scoring Matches
236 – Cuba v Brazil 3-2 (23-25, 21-25, 25-22, 25-18, 27-25) on August 22
236 – Czech Republic v Korea 3-2 (31-29, 22-25, 25-18, 19-25, 16-14)
216 – Tunisia v Belarus 3-2 (25-22, 15-25, 25-23, 26-28, 15-12) on August 22
214 – Argentina v Bulgaria 3-2 (25-19, 21-25, 26-24, 21-25, 15-13) on August 28
211 – Brazil v USA 3-2 (24-26, 24-23, 21-25, 25-17, 15-10) on August 28
209 – Bulgaria v Brazil 3-2 (25-23, 24-26, 19-25, 25-21, 15-6) on August 27
206 – Egypt v Germany 3-2 (17-25, 27-25, 25-17, 13-25, 17-15) on August 21
203 – Germany v Mexico 3-2 (25-21, 23-25, 25-18, 14-25, 15-12) on August 25
203 – Mexico v Tunisia 3-2 (21-25, 20-25, 25-14, 25-23, 15-10) on August 29
202 – Egypt v Japan 3-2 (25-19, 25-20, 23-25, 15-25, 15-10) on August 23
202 – Japan v Belarus 3-1 (25-27, 25-18, 25-18, 33-31) on August 29
201 – Dominican Republic v Mexico 3-2 (25-15, 25-21, 17-25, 23-25, 15-10) on August 28

SOURCE: www.fivb.org
Posted in International on Aug 30, 2019